Shaw Group at ACS Fall 2022 National Meeting & Expo in Chicago!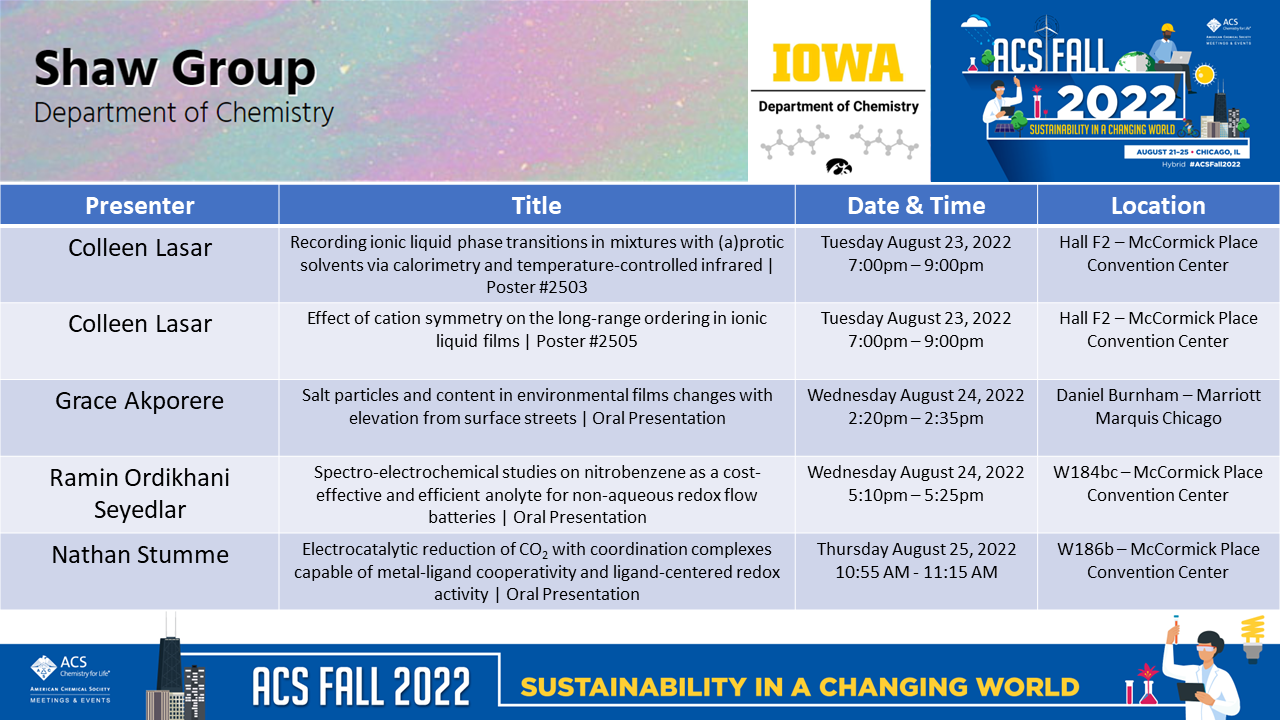 Our research focus can be summarized as analytical surface-science. Nearly all of our research is based on measurements of chemical interactions with surfaces, and most of our instrumentation is specifically designed to examine interfacial phenomena. If you've ever wondered why oil spreading on water looks like a rainbow, why you can only make sand castles with wet sand, or how Rain-X® keeps your windshield so clean, you might be interested in our work. We use precice measurements of chemical behaviors to create new, fundamental understanding of these types of questions to address important challenges in environmental remediation, materials development, and energy science. 
Detailed descriptions of our research projects and some laboratory pictures can be found within this website.  If you have questions, feel free to send us an email or arrange a visit to our lab.  Follow us on Twitter @shawschem (group) or @shawchem (Prof Shaw)
Research for All
The Shaw lab holds diversity, equity, and inclusion in high regard. We accept that scientific advancement suffers without full participation from all communities and we are proactively inclusive of all people regardless of ethnicity, immigration status, socioeconomic status, gender identity, sexual orientation, age, or ability. We acknowledge systemic issues of biases within the physical sciences for, and against, certain groups of people. To fight this, we work within our group to create an equitable, inviting, and enjoyable environment to do good science. Through formal training and informal interactions, we are all learning how to recognize and mitigate our own biases while advocating for each other. We hope our efforts in DEI will support the needed changes within our field.  
Departmental Events
Friday, February 3, 2023 12:30pm to 1:20pm
"Reflecting on the Role of a Research Mentor" A primary mission of an academic institution is to ensure that the values, standards, and practices of science are effectively transmitted from one generation of researchers to the next. Within the context of research, a core component of this process is mentoring. Mentoring is the key for developing and sustaining a satisfying scientific career. Research indicates an overall improvement in the quality of the mentoring relationship and research...
Friday, February 3, 2023 2:30pm to 4:00pm
"Evaluation of β-Hydroxy Protected Aldehyde 1,3-Stereoinduction in Mukaiyama Aldol Reactions and Progress Towards the Total Synthesis of Bastimolide A"
Wednesday, February 8, 2023 4:00pm to 5:00pm
Combining Structural, Spectroscopic, and Biochemical Tools to Understand and Control Electronic Structure within f-Block Complexes and Clusters
View more events
Professional Development Events
Wednesday, February 15, 2023 5:00pm
The Obermann Center seeks a graduate student to support the Andrew W. Mellon Foundation grant, Humanities for the Public Good (HPG), under the supervision of the Director of the Obermann Center, who is the Principal Investigator on the project. The ideal candidate be an outstanding scholar-teacher who is interested in conducting and sharing research on the larger ecosystem of the humanities and diverse careers for humanities scholars and learning the skills necessary to be a successful project...
Thursday, February 16, 2023 12:00pm to 1:30pm
Join us for the Grad DEI Virtual Conversation Series this February via Zoom as we host virtual conversation spaces with alumna Dr. DaVida Anderson and Dr. Laila McCloud, co-founders and board members of the Strong Sister, Silly Sister program.
View more events
DEI Events On Campus
Friday, February 3, 2023 9:00am to 6:00pm
Out & About: Queer Life in Iowa City is the Spring 2023 exhibition in the Main Library Gallery.
Friday, February 3, 2023 2:30pm to 4:00pm
In light of the tragic shootings at Monterey Park and Half Moon Bay in California, the Asian Pacific American Cultural Center (APACC) and the Pan Asian Council (PAC) will host a community support space on Friday, Feb. 3, from 2:30 to 4 p.m. to grieve the lost lives of the victims. Community members are invited to attend either in person at APACC (223 Lucon Dr.) or virtually on
Zoom
. We will have Dr. Tianyi Xie, staff psychologist from UCS, available to help attendees process their feelings. ...
Saturday, February 4, 2023 1:00pm to 5:00pm
Out & About: Queer Life in Iowa City is the Spring 2023 exhibition in the Main Library Gallery.
View more events