Shaw Group at ACS Fall 2022 National Meeting & Expo in Chicago!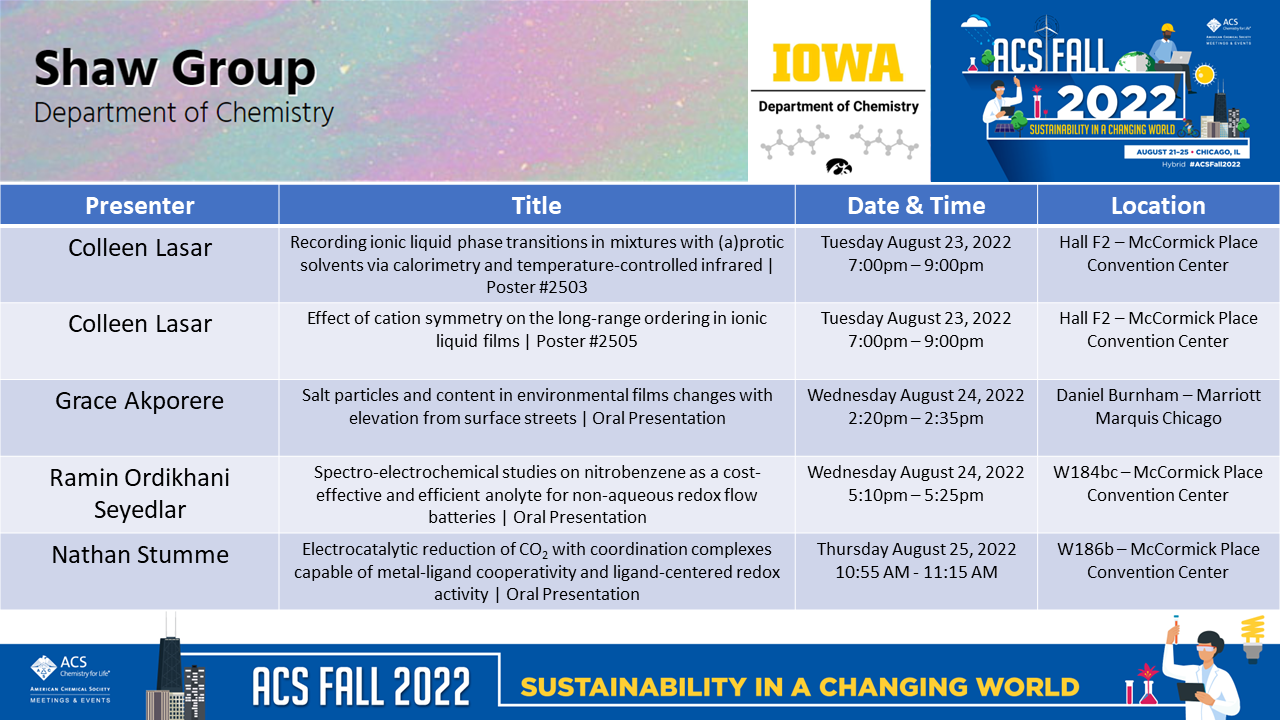 Our research focus can be summarized as analytical surface-science. Nearly all of our research is based on measurements of chemical interactions with surfaces, and most of our instrumentation is specifically designed to examine interfacial phenomena. If you've ever wondered why oil spreading on water looks like a rainbow, why you can only make sand castles with wet sand, or how Rain-X® keeps your windshield so clean, you might be interested in our work. We use precice measurements of chemical behaviors to create new, fundamental understanding of these types of questions to address important challenges in environmental remediation, materials development, and energy science. 
Detailed descriptions of our research projects and some laboratory pictures can be found within this website.  If you have questions, feel free to send us an email or arrange a visit to our lab.  Follow us on Twitter @shawschem (group) or @shawchem (Prof Shaw)
Research for All
The Shaw lab holds diversity, equity, and inclusion in high regard. We accept that scientific advancement suffers without full participation from all communities and we are proactively inclusive of all people regardless of ethnicity, immigration status, socioeconomic status, gender identity, sexual orientation, age, or ability. We acknowledge systemic issues of biases within the physical sciences for, and against, certain groups of people. To fight this, we work within our group to create an equitable, inviting, and enjoyable environment to do good science. Through formal training and informal interactions, we are all learning how to recognize and mitigate our own biases while advocating for each other. We hope our efforts in DEI will support the needed changes within our field.  
Departmental Events
Wednesday, October 5, 2022 12:30pm
The Department of Chemistry presents, Vidumini Samarasiri, Inorganic/Chemistry Research Seminar speaker.
Thursday, October 6, 2022 12:30pm
The Department of Chemistry presents, Zachary Fike, Organic Chemistry Seminar speaker.
Thursday, October 6, 2022 12:30pm
The Department of Chemistry's Tess Feldman Analytical Chemistry Seminar
View more events
Professional Development Events
DEI Events On Campus
Sunday, October 2, 2022 4:00pm to 5:00pm
A reading by IWP Fall Residency writers and a UI MFA student.
Sunday, October 2, 2022 7:00pm
Join us for Night 6 of Cinematheque. This week will be a special screening of Season 3, Episode 8 of the Netflix series Money Heist, hosted and with comments offered by Almudena Ramírez-Pantanella, who contributed writing to that episode, among others.
Monday, October 3, 2022 12:00pm to 1:00pm
Dr. Jorge A. Girotti and Dr. Emma B. Olivera will highlight LHS+ Heritage/History of the Latino Medical Student Association Midwest Region Register in Advance for this lecture
REGISTER HERE
View more events